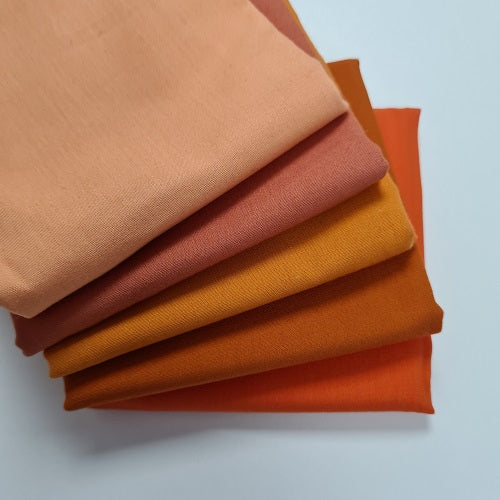 Art Gallery Fabrics
Art Gallery Fabrics Pure Solids Shades of Autumn Bundle
A selection of Oranges from the Pure Solids collection

Orange in every way! 
Apple Cider
Autumnal
Dried Carrot
Terracotta Tile
Apricot Crepe
From Art Gallery Themselves - 'Since these fabrics have a tightly woven thread count of 133 x 72, (industry standard is 60 x 60) The higher the thread count the softer the fabric!
When it comes to fabric care, the color remains vibrant after numerous washes and also has the lowest shrinkage percentage (1% - 2%) compared to other competitive brands. Best of all, our Pure Solids are internationally OEKO-TEX certified, meaning our dyes are the most environmentally safe'

What is not to love, these products will provide you with the best finish to all your hard worked on projects, and in the words or Art Gallery Fabrics - Feel the difference!
Each solid is either a fat quarter or fat eighth, depending on your choice. If you order multiples of this fabric they are always cut as one continuous piece.
The version includes 5 different fabrics from Art Gallery Fabrics, Pure Solids Range. 
100% Premium Cotton, 110 cm  Wide
---
More from this collection