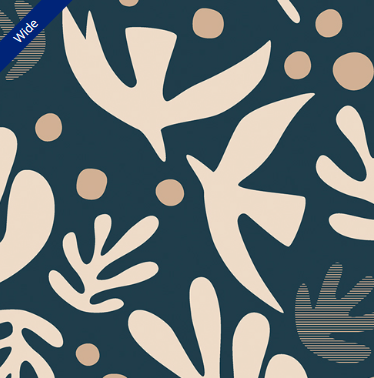 Art Gallery Fabrics
Duval - Boho Birds Nova Wide : 108 Edition Wide Backs
This fabric is Boho Birds Nova from the first collection for Art Gallery Fabrics by Suzy Quilts, isnt it just a stunner?!
Get inspired by the effortless sophistication of 1960's Key West and its mix of urban living & laid back island style. Easy breezy prints to mix and match in fresh and modern designs. Discover subtle tonal prints and bold graphic designs in a palette of cool neutrals and rich shades of navy, cream, black and soft lavenders and pale blues.
From Art Gallery Themselves - 'Since these fabrics have a tightly woven thread count of 133 x 72, (industry standard is 60 x 60) The higher the thread count the softer the fabric!
When it comes to fabric care, the colour remains vibrant after numerous washes and also has the lowest shrinkage percentage (1% - 2%) compared to other competitive brands. Best of all, our Pure Solids are internationally OEKO-TEX certified, meaning our dyes are the most environmentally safe'
100% Premium Cotton, 108 inches / 274cm wide
Please Note: This fabric is sold in half metre lengths. If you need 1 metre, please order '2'. If you order multiples they are always cut as one continuous piece.
*Colours may vary on additional images*
---
More from this collection